Hardwood Flooring in Saint Charles, IL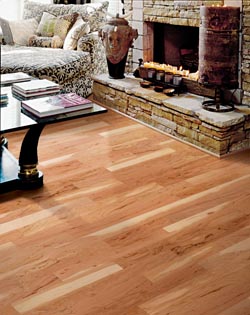 Add a new sense of warmth and elegance to your home by remodeling with a new hardwood floor. Whether you want to have a new look in your dining room or update your entire home, you can count on us for beautiful and durable hardwood flooring in St. Charles, IL. Here at our flooring showroom, we offer a wide assortment of hand-scraped, solid, and engineered hardwood floors that make a perfect addition to any living space. Set up a consultation with one of our flooring professionals or browse our wide selection of hardwood on your own. Start your own renovation project by visiting our flooring store. A durable choice, solid hardwood floors will last for years to come with proper maintenance. It is also great for those who suffer from allergies because it doesn't let dust, dirt, or other allergens sink into the surface. It's easy to clean; just sweep and mop for a fresh look. When you visit us to browse our inventory of high-quality hardwood floors, you'll find products from the top brands on the market, such as Anderson, Armstrong, Bruce, Downs, Floorcraft, Mannington, Mohawk, Shaw, and Spotlight Values.
For more than 70 years, solid hardwood floors from Anderson have provided homeowners with quality craftsmanship, enhancing the value and beauty of their residential spaces. We also offer a broad selection of Armstrong floors, which offer an unmatched sense of versatility and fashion, enabling you to enjoy the freedom of customizing your décor with a personal touch for a unique look that expresses your design vision. Our affordably priced Bruce hardwood floors offer the look of luxury without the high price tag, enabling you to take home a stylish and innovative floor without having to worry about breaking the bank. The hardwood floor options we carry from Downs combine durable construction with a unique style for a timeless appeal that is guaranteed to make any home look beautiful for years to come. Whether you're in the market for a modern, contemporary look or a classic, traditional aesthetic, you can depend on our selection of Floorcraft products to deliver the performance and style you need at a value you'll love. For homeowners interested in exquisite appeal and superior endurance, our Mannington hardwood floors are designed to resist scratches and scuffs while providing easy maintenance. If comfortable warmth and lasting protection are the key factors in your search for the perfect floor, then Mohawk flooring is an option worth considering for your next purchase. Over the years, Shaw has developed a positive reputation for delivering excellent quality and innovative designs with hardwood floors that offer incredible value and long-term performance. Whether you're a new property owner or you're interested in updating the floors in your current living space, Spotlight Values has a floor for that is perfect for you. No matter what type of floor you choose, our helpful design consultants will be ready to help you select the ideal flooring for your home.
Which Type of Hardwood Is Right for You?
Whether you are looking for hand-scraped, solid, or engineered hardwood floors, you can trust our experienced professionals to help you find the flooring that works best for your needs. We take the time to get to know the specifics of the rooms you want hardwood in, your budget and schedule, your personal style, and any special requirements you have. Our design consultants use all this information to narrow down our wide selection to the few options that work best for you. If you are looking for a unique look with little maintenance, then our hand-scraped hardwood might be the perfect flooring option for you. It offers a unique, classic look and easily disguises minor scratches and dents. If you want hardwood flooring throughout your entire home, you'll want to invest in engineered wood in areas with high heat and moisture. This type of flooring has a layer of hardwood on the top with three to 12 layers of unfinished white wood and plywood underneath. These layers make the engineered hardwood resistant to warping and moisture damage, making them perfect options for kitchens, bathrooms, and basements.
With a visit to our showroom, you'll be able to pick a new style of hardwood flooring that matches your current décor. Made of multiple grades, patterns, and textures, our wood floors come in many eye-catching colors, textures, and patterns, making them a great fit for any room. Once you know what type of hardwood you need, our professionals can help you refine your options and help you choose from different stains and grains. Regardless of the style you prefer, we'll be glad to can show you samples of our hardwood planks so you know exactly what to expect from your new floors. We strive to ensure your complete satisfaction. That's why we offer our Five Star Selection System. This independent rating system lets you know the durability and performance level of the various hardwood flooring options in our store.
Depend on Our Experts for Your Hardwood Flooring Installation
OOnce you have chosen the flooring option that works best for your needs, our hardwood floor installation team takes care of the rest. We optimize your floor's aesthetics and functionality by using a proven installation technique that seals in the wood's natural beauty and protects it from future damage. Once you've chosen your hardwood of choice, it's time to schedule a professional installation to ensure your flooring will fit flawlessly. With a certified specialist on-site, we guarantee your floors will look exquisite. Because our team works with you from start to finish, we know exactly what your needs are. When you discuss your design vision with our staff, we'll have a better idea of the requirements you have for your project, which enables us to put them first throughout the entire process. We also provide our Ultimate Confidence Guarantee for star-rated products. This guarantee enables you to have your new floors installed by our professionals in a timely manner. In the unlikely event that you are somehow unsatisfied with your new floors within 30 days or if you ever experience any installation issues within the lifetime of the floor, we will gladly remedy the problem for free.

Contact us to learn more about our selection of durable hardwood flooring. We serve clients in Saint Charles, Geneva, Batavia, North Aurora, and Wayne, Illinois, and surrounding communities.