Durable Laminate Flooring in Saint Charles, IL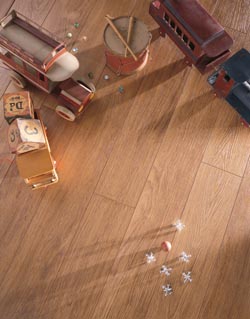 When it's time to upgrade your home with stylish and durable laminate flooring in Saint Charles, IL, come to the flooring experts at Family Flooring America. Our laminate floors are available in numerous styles, sizes, and finishes to suit any taste and budget.

Take advantage of our selection to finish off that home remodeling project, or simply upgrade your kitchen with laminate tile flooring for easier daily cleaning. Want a rich, luxurious look? Try our laminate wood flooring. Our laminate floors easily mimic more expensive options so you can get the look you want without going over budget.

Have pets? Children? We can help you find the right laminate wood flooring for your busy household. We can transform any room in your home into an easy-to-clean, yet stylish space. Minimal maintenance is required to keep laminate in great shape, and spills and other messes come up quickly with hardly any work. You don't have to worry about staining grout or wood grain, either.
Enjoy Improved Durability With Our Laminate Tile Flooring
If you are looking to update the flooring in your kitchen or bathroom, you need an option that can hold up well against moisture. Our laminate tile flooring is an excellent choice. This material is built to resist water while still bringing an elegant feel to the room. Additionally, it is an affordable flooring option, so you can rest assured that you will revamp the look of your home without going over budget.

The initial wear layer is created from aluminum oxide. This means it effectively protects from fading, surface burns, everyday trauma, and stains. The second layer is referred to as the design layer. This is where a high-resolution image of a pattern, such as wood grain or marble swirls, is placed and remains completely untouched in the event of damage to the first layer.

The third core layer is manufactured from high-density board, which prevents indentations and moisture from affecting your laminate floor. This is why laminate floors last for years without significant wear. The last layer is a stabilizer that also protects the concrete or subfloor from moisture that could cause serious damage.
Add Sophistication With Luxurious Laminate Wood Flooring
Get the high-end style and sophistication of wood floors at an affordable price by purchasing our laminate wood flooring. This attractive material will complement any color scheme in your home, and it is available in many beautiful textures. Made from multiple durable layers, the laminate wood flooring we provide is tough enough to stand up against the test of time. All of our laminate tile and wood flooring is created using four layers of material. Each layer plays a vital role in maintaining the appearance and durability of the floor over the course of time.
Detail-Oriented Laminate Flooring Installation
Once you've selected the right laminate wood flooring or tile flooring, schedule an installation with the help of our experienced team. Choose work from experienced and skilled installers who offer you a free estimate, which saves you time and money. Not only is laminate one of the easiest forms of flooring to install, when integrated into your home by our team, it is guaranteed to last.

Laying down flooring involves more than just lining up the individual pieces side-by-side. The pieces have to be precisely measured to fit your individual floor space. Our skilled team members are experienced in laminate flooring installation, and they know what is needed to bring about stunning results. Make your ideal flooring visions a reality by visiting our showroom today!

Contact us today to add visual appeal to your home with our beautiful laminate flooring. We proudly serve the communities of Saint Charles, Geneva, Batavia, North Aurora, and Wayne, Illinois.