Paint in St. Charles, IL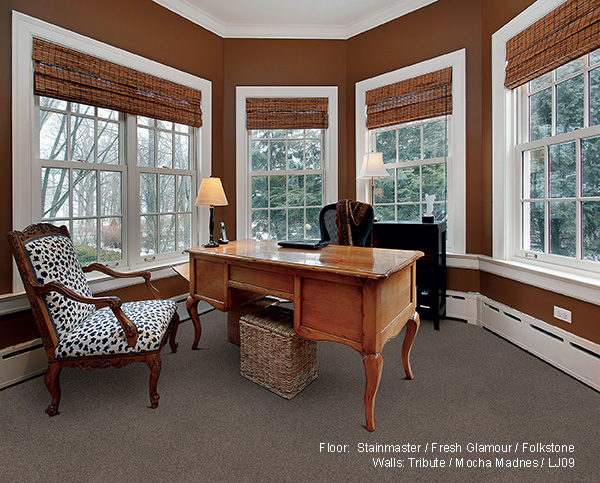 One of the easiest ways to change up your home design and create a new theme is by adding a new color. At our store, we make it easy to paint in St. Charles, IL, with top-quality material. Whether you're looking for a trusted brand-name, a neutral tone, or a vibrant shade, we've got it here in our flooring showroom. We are known for helping clients find the perfect paint for any room or area in their homes.
Our stock includes a number of finishes and every color of the rainbow, so you can find everything you need for your walls, doors, and trim. Just ask one of our professionals and we'll be happy to help you pick the perfect one for your project. Much of what we have is washable paint, so you can perform wet cleaning throughout your home without compromising the paint's quality. These are applicable to all kinds of surfaces, such as plaster, drywall, concrete, brick, wood, and even wallpaper.


About Our Paint Brands
We carry a number of superior painting products, but our biggest brand-name by far is Kilz. Homeowners have trusted their paints and primers since 1954 for long-lasting coverage and high value. With Kilz, you have the option of hiding all of those stains, smells, and blemishes that may be left over from the last job. Feel free to ask us any questions about our Kilz products and what they can do for the room you're planning to work in.


Our Numerous Interior Paint Finishes
The type of product and finish you'll need depends on not just your preferences, but also the area you're planning to transform. Two examples we offer are flat and eggshell, and our associates can advise you and provide professional recommendations on which one is the best for your project. Our flat finish paint works well in uneven areas or places with flaws you'd rather not be seen. It absorbs splashes and stains easily and is great for large areas such as ceilings where there isn't as much traffic.
Another way to cover up those eyesores is to use our eggshell finish paint, which gives you a subtle and smooth finish. This won't highlight any imperfections, so you can show off only the best parts of your décor. It's also extremely durable and easy to clean, so it works in almost any room. Each of these paints is an excellent choice for a home makeover, and you can find them both right here in our showroom.



Contact us to bring color to your home and make it look like new. We work with the homeowners of St. Charles, Geneva, Batavia, North Aurora, and Wayne, Illinois, and the nearby communities.