Tile Flooring in St. Charles, IL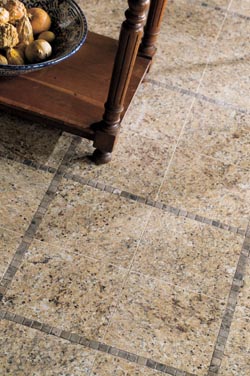 Have your floors aged so much over the years that you no longer find them attractive? Are you a contractor who needs ceramic or porcelain tile at an affordable price? Upgrade any home or office with tile to make a transformative change to your space. Our flooring store offers a wide variety of tile options for you to peruse in our showroom. Many of these styles include ceramic, porcelain, and slate tile. Both home and business owners choose tile for their properties because it comes in a wide array of options and can withstand environments with the toughest foot traffic. Get the best price possible from our sales team when you choose us for tile flooring.
Our staff is dedicated to seeing that your project is done swiftly and efficiently. If you already know what you need to finish your project then we can point you to the right materials. If you're not sure where to start then you're in luck. We have a professional staff that is here to offer tips, guidance, and guide you every step of the way—from selection to tile flooring installation.
Tile Products That Provide Style & Easy Maintenance
When you invest in the future of your home or office with a new flooring purchase, make sure you choose one that has the potential to remain under warranty for up to 25 years. Ceramic tile is an environmentally-friendly flooring option that is resistant to water and heat. Enjoy your home without worrying about your scratched floors or constantly having to clean your floors. For a business or homeowner, choosing tile also means less exposure to allergens in the air.
When you invest in the future of your home or office with a new flooring purchase, make sure you choose one that doesn't require constant maintenance. Ceramic tile is an environmentally friendly flooring option that is resistant to water and heat. Spills are quick and easy, as they only require the use of a mop or sponge. They're also very durable, which allows you enjoy your space without having to worry about the daily wear and tear from constant foot traffic.
The porcelain tile options available in our showroom are both high quality and affordable. We are able to maintain these low prices because of our national buying power and established relationships with numerous vendors. Our store is able to pass along savings to members of our own community. We address the following options when we help you navigate the flooring showroom:
Color: What is the color scheme of your home? Is your tile going to be a base or a focal point?

Size: What rooms are you decorating? Will you be using the same tile size throughout? Do you want to choose different tiles for smaller rooms, bathrooms, and hallways?

Texture: Do you prefer the rustic look of tiles that show imperfections or the flat look of matte finishes? Different types of porcelain and ceramic have varying finishes and textures.

Shape: Do you plan on sticking to traditional tile patterns or do you want to branch out to a more artistic option? Will certain areas feature tile focal points or mosaics?
Deciding to undertake any kind of renovation project requires commitment and time. The last thing you want to find out is that the new floors you installed six months ago are already starting to deteriorate. That's why we only offer brands that are known for their durability and quality. Completing your project is only half the battle to us. The other half is making sure your floors, whether they're ceramic, porcelain, or slate tile, last for decades to come. We carry the following brands at our flooring store:
FloorCraft™
HomeCraft™
Design Distinctions™
Daltile™
American Olean™
Professional Tile Flooring Installation
Floor specialists on our team offer free in-home consultations to our potential clients. We assess your space and help you find the right tile flooring for your décor. In some cases, flooring is meant to be a backdrop while in other cases it is meant to be a focal point. With our professional tile flooring installation, you are sure to enjoy a flawless job that upholds its looks through years to come. An expert discusses your needs and helps you make the right flooring choice for every room.
Even though we're a part of a franchise, you still get a hometown feel when you come and visit us. That's because our store is locally-owned and operated. Don't be surprised if some of our associates call you buy their first name when they see you walk into the store. It's our way of letting you know how attentive we are and how much we value you.
Your satisfaction is important to us. We stand by the quality of our products and our thorough installation process ensures you get the most out of your purchase. We offer a Confidence Plus Warranty to all of our customers who purchase 4 or 5-Star rated floors. This warranty states that if you're not happy with your floors after 30 days for any reason at all, we'll replace it for you on our dime. It's our way of showing you that we're committing to see your project through until the end. We also offer a Price Protection Guarantee. If you find a lower price on an item of the same brand and style within 30 days of your original purchase, we'll refund the difference. Our focus on customer satisfaction is the reason why we come so highly recommended.

Contact us for more information about our wide collection of tile flooring. We proudly serve the residents of Saint Charles, Geneva, Batavia, North Aurora, and Wayne, Illinois, as well as the surrounding communities.