Vinyl Flooring in Saint Charles, IL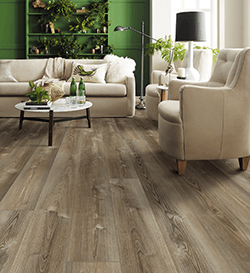 For the perfect combination of durability and flexible style in an affordable package, many homeowners choose vinyl flooring. Our flooring experts are proud to recommend a vinyl flooring installation for almost any application, because these floors come in so many varieties, from sheet vinyl to luxury vinyl tile. The longevity of vinyl makes it the cost-effective choice, and the easy installation suits it to any home improvement project.
Come to our fully stocked showroom today to browse our large selection of vinyl. With a product catalogue as large as ours, you are sure to find the flooring that suits your needs in terms of functionality, cost, and looks.
Choose From Plank, Tile, and Vinyl Sheet Options
No matter what the application, there is a vinyl sheet flooring solution to suit your needs. Luxury sheet vinyl is the budget-friendly option, especially when you need new floors in multiple adjacent rooms. Sheet vinyl comes in rolls that are deployed quickly and easily to provide durable single-room, multiple-room, or even whole-house flooring without unsightly transition lines.
Luxury vinyl tile (LVT) and luxury plank flooring (LVP) are newer options that bring the many advantages of vinyl to more specialized applications. Because vinyl can be printed with any color or pattern, homeowners often choose this stylish flooring option when they want to simulate high-end flooring materials. Vinyl floors can mimic ceramic, porcelain, or even natural stone tile, whereas vinyl plank flooring resembles various types of elegant hardwood. This versatility allows homeowners to get the style advantages of these more expensive materials with the low maintenance of affordable vinyl.
Tile flooring is a classic, timeless addition to any home. We carry one of the best possible alternatives to tile flooring that comes at a better price and with even more durability. Vinyl tile flooring is the best way to get all of the incredible benefits of standard tile at a fraction of the cost. No kitchen feels complete without tile, and with vinyl, you get all the benefits that make tile so great for that room. No matter what you're cooking, you won't be able to stain vinyl. Red wine, brown sauces, and coffee wipe right up without the slightest struggle and nothing in your kitchen that you could drops is capable of causing the slightest chip in these floors.
Bathrooms benefit equally from the introduction of vinyl. No room in the house sees steadier water use than your bathroom. Toilets, sinks, tubs, and showers all threaten to soak the floor every time someone uses them. Without the proper flooring, you face water damage to your floor and even the foundation of your building. Thanks to the waterproof nature of vinyl, even the largest spills from the tub won't harm it. Vinyl tile flooring is the best option if you have kids that love to splash around in the tub or a teenager learning to shave in the sink. Keep the water well away from your foundation while still having the elegant look you desire in your bathroom.

Our flooring experts recommend vinyl for any room, but it is especially appropriate for areas of high foot traffic. The springy durability of vinyl makes it easy on the feet while it is capable of withstanding heavy daily use. Homeowners often choose vinyl floors for their kitchens or hallways, where the scratch and stain resistance ensures a long lifetime without an increased maintenance requirement. In fact, sweeping daily and a weekly mopping will often be sufficient to keep your floor looking like new for years.
If you have a family, there is no better option. The incredible resistance to all sorts of abuse makes vinyl the go-to flooring choice for the modern family. Best of all, when you seek out our services for professional vinyl flooring installation, you are guaranteed a floor that lasts. The incredible durability, combined with the elegant appearance, make it perfect for a family full of pets and children that still wants to preserve some aesthetic beauty. No matter what damage your kids or their friends cause, vinyl maintains its pristine, flawless appearance. All you have to do is maintain moderate levels of cleaning and you'll never notice a blemish.
Professional Vinyl Flooring Installation
Expert vinyl floor installation is almost as important as the quality of the flooring material you purchase. Every floor you buy from us comes with a free, in-home measurement to make sure that you get the best fit for your room. From this measurement, we pre-cut your luxury sheet vinyl to accommodate floor vents, outlets, and the other contours of the space. This speeds up installation, and makes flooring multiple rooms go smoothly.
The advantages of this excellent flooring option extend to vinyl tile and vinyl plank flooring as well. Vinyl can be cut quickly and safely with a standard utility knife. This enables our installers to shape the tile or plank on the spot, adding efficiency while increasing accuracy. Our experienced installers can complete the project in a fraction of the time for other flooring materials, with the same benefits in style and durability.
Contact us today for the premium vinyl flooring that combines elegance and durability. We are proud to serve St. Charles, Geneva, Batavia, North Aurora, and Wayne, Illinois, and surrounding area.