Waterproof Flooring in Saint Charles, IL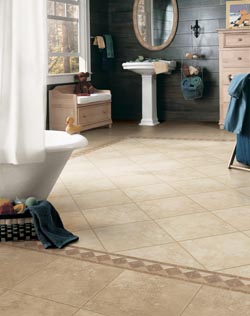 Are you tired of replacing floors ruined by water damage? After several years, many homeowners find themselves in the same situation: pulling up flooring whose appearance or texture just isn't the same after so many spills and accidents.
What if there was a way to enjoy beautiful, comfortable flooring in any room without worrying about water damage? Our showroom makes it possible with the largest local selection of waterproof flooring in Saint Charles, IL. From plush carpeting to luxury vinyl tile, waterproof flooring comes in so many different styles and textures you'll be hard-pressed to choose just one. That's why our showroom team is more than happy to help you choose. Visit today to start exploring a world of affordable, yet attractive flooring materials that stand up to water damage!
What is Waterproof Flooring?
When thinking about the term "waterproof," some people think of materials that can get wet without being ruined. Others think of materials that repel water altogether, preventing it from penetrating. Waterproof flooring matches this second definition closely. Thanks to its unique layers and installation requirements, it's able to stop moisture in its tracks, thus preventing severe water damage.
If you've struggled with spills and ruined flooring for years, it's time to consider going waterproof. An investment in waterproof floors is an investment in your home–instead of shelling out to replace water-damaged flooring every few years, visit our showroom to find waterproof materials that stand up to the test of time. You deserve the peace of mind that comes with knowing your floors won't buckle at the first spill.
Waterproof floors are great choices for families with pets and small children, as well as those concerned about a potential storm and flooding damage. However, you don't have to have a full house or live in a flood zone to enjoy the perks of waterproof flooring. Add it to your kitchen or bathroom and enjoy added security and protection against cooking and plumbing malfunctions.
Schedule Waterproof Flooring Installation with Our Team
Stop by our showroom to find out more about long-lasting, water-repelling products available now. Once you've chosen the perfect waterproof carpeting or waterproof vinyl flooring, though, be sure to enlist our help with the installation process. Our assistance could mean the difference between flooring that works, and flooring that needs replacing entirely too soon. Reach out today to schedule your installation.



Contact us or visit our showroom to learn more about your options for waterproof flooring. We proudly serve residents of St. Charles, IL, and the surrounding areas.